The 2012 Media Architecture Biennale took place on 15-17 November 2012 in Aarhus, Denmark.
Please visit mab14.org for information about the upcoming 2014 biennale.
Media architecture transforms cities, buildings, and people. Bringing together architects, academia, and industry from around the globe, the world's top experts discussed and outlined the media architecture of the future at the Media Architecture Biennale 2012. This continues in November 2014.
Among the speakers in 2012 were media artists Ben Rubin, architect and designer Jason Bruges, Bjarke Ingels Group, Gehl Architects, professor of architecture Antonio Saggio, professor of media archaeology Erkki Huhtamo – and many, many more.
The biennale also featured an exhibition, awards, industry sessions, workshops, an iPad compendium, and a gala dinner.
Follow us on Facebook and Twitter to stay updated with the latest news about the upcoming event in 2014.

The full programme of The Media Architecture Biennale 2012 can be found here, including a map of the venue.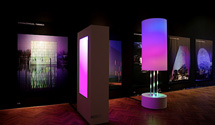 The final nominees for the 2012 Media Architecture Biennale Awards: Have a look at the shortlist for each of the five categories.


On 1 October 2012, students worldwide participated in a 24 hour design competition and competed for a travel scholarship to MAB12. See their results here.